Tailem Bend
Christmas Parade
Cabaret
Nov 2022
Are you ready for a great night out! Then mark your diaries and start gathering your friends to join us for the Christmas Parade Cabaret. There will be a fantastic band playing, exciting prizes to be won and entertainment galore! So grab your ticket, put on your dancing shoes and get ready to ROCK AWAY THE NIGHT!
Would you like to Sponsor a Raffle Prize?
Please support this important fundraiser - our Tailem Bend Christmas Parade Committee relies on the funds raised on nights like this to provide this truly memorable event for our town!
If you have an item you would be interested in donating as a prize for our Cabaret Night, please email tbchristmasparade@gmail.com
2021 Tailem Bend Christmas Parade Cabaret
For the sixth consecutive year, the Tailem Bend Progress Association Christmas Parade Committee has once again been able to entertain the community and surrounds by holding a now very popular fundraising cabaret.
This year was no exception. On Saturday 6th November the decorations in the town hall were amazing and reminiscent to those attending of their teenage years and the good old Rock and Roll era. Local band Arkive played music to suit the theme of the 50's and early 60's.
Rock and Roll dance group the Rat Pack entertained with fabulous Jive moves with a whole lot of shaking going on around the dance floor. Some attending made the effort to dress for the occasion and looked amazing in their rock'n'roll attire.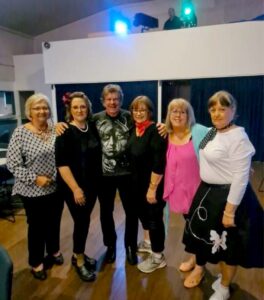 All ages put on their dancing shoes and took to the dance floor to swing the night away, with our youngest jive bunnies being seven and twelve years of age. Our very own, Bobby Hunter, we will claim him as ours, being a local boy working and playing sport way back in the sixties and seventies was unbelievably brilliant with his rendition of Rock'n Robin, Great Balls of Fire, Blue Suede Shoes, Good Golly Miss Molly, Long Tall Sally, Ready Teddy, Goodbye Astrid and a whole lot of Shakin from the Rock'n'Roll era. This young vibrant seventy-eight old man certainly knows how to entertain a crowd.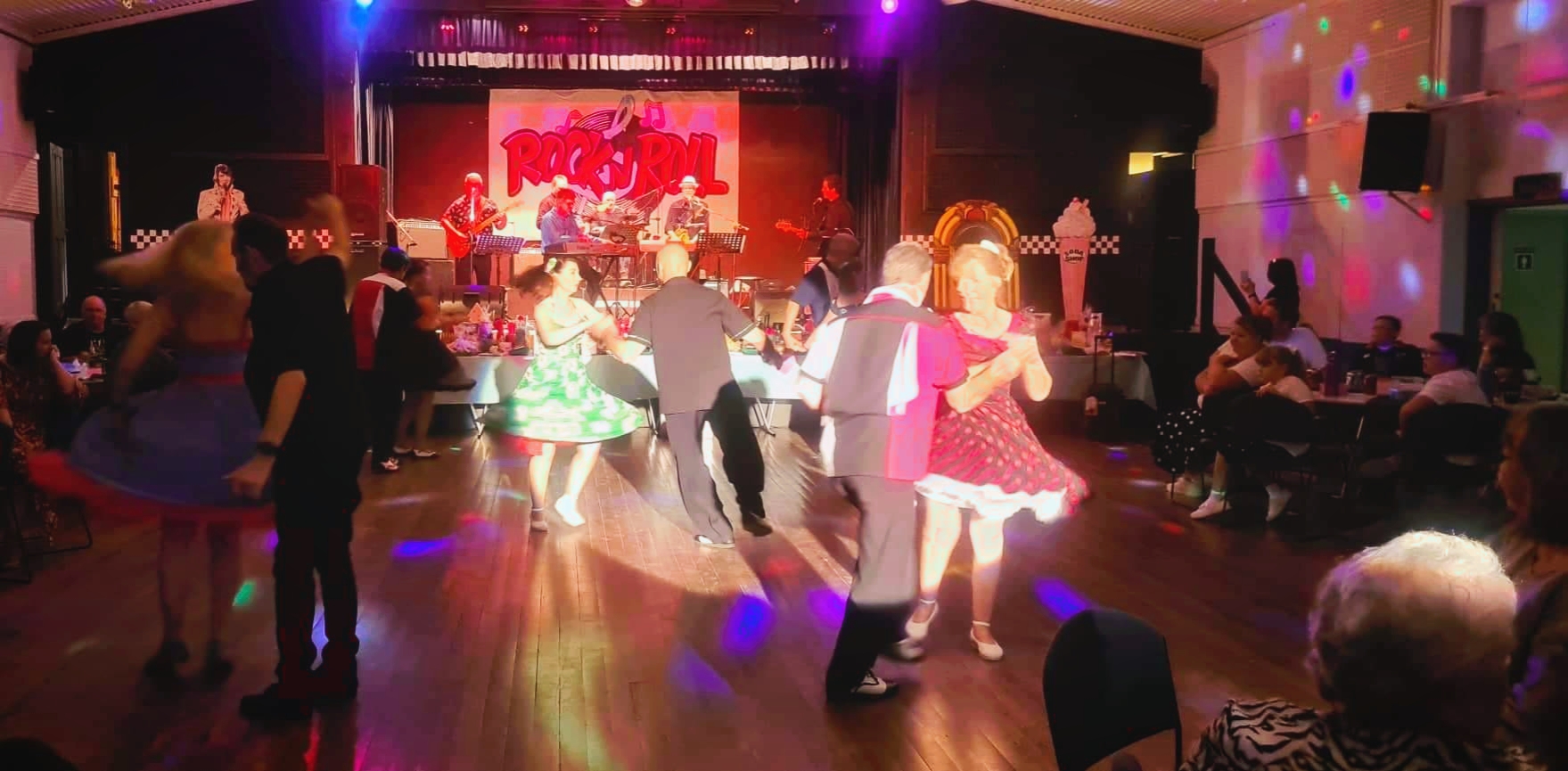 A Huge Thank You! to all who attended and those who supported our cabaret with vouchers, donations and prizes for our raffle, we could not continue without your valued support.
Also many thanks to the dedicated few who helped to put this show on the road and make this night a huge success.